And wine to gladden the heart of man.
(psalm 104,15)
"Wunderbar"
1
(Falstaff Wein Guide 2021)
,

(Gault Millau Wein Guide 2021)
, "… sein Stil wird immer geschliffener …"
2
(Der Feinschmecker, Die besten Winzer und Weine 2020)
, "… Brillant! Nick Köwerich hat 2017er Weine mit Schliff und Spannung im Keller …"
3
(Fallstaff Wein Guide 2019)
, "… Nick Köwerich hat seinen Stil gefunden …"
4
(Vinum Weinguide 2019)
, "… drücken die Liebe und Verbundenheit des Winzers zum eleganten, zarten und manchmal auch verspielten Riesling-Stil aus …"
5
1 "Wonderful",2 "… his style is becoming more and more polished …", 3 "… Brilliant! Nick Köwerich's 2017 wines are edgy and exciting …", 4 "… Nick Köwerich has found his style …", 5 "… they express the winemaker's love of and fondness for the elegant, delicate and sometimes playful Riesling style …"
These quotes give you a little taste of the wine estate between the vines and the river. Leiwen is located on the Central Mosel, nestling on a particularly beautiful river bend between Trier and Bernkastel. The valley is sun-drenched, and the landscape and the aroma of the wine that has been growing here for two millennia is characterised by blue Devonian slate. Riesling has been grown on the Mosel since 1465. Our family has been listed in the town's parish register since 1548. As aspiring viticulture engineers, in Geisenheim we have learned that tradition belongs in the bottle, and not on it. That's why it's okay for some of our wines to have unconventional names. Nevertheless, just like our ancestors, we live by the rhythm of the vines and are allowed to produce something that accompanies humankind's magical moments: Birthdays, weddings … It's quite simple: "And wine to gladden the heart of man." (psalm 104,15).
"… mit seinem Schliff und seiner Transparenz …"1 (Vinum Weinguide 2018), "Urlaub für den Gaumen …"2 (InStyle 10/2009), "… spritzig und harmonisch …"3 (Brigitte 17/2000)
1 "… with its polish and its transparency…", 2 "… A holiday for the palate …", 3 "… tangy and harmonious …"
Insight N
⁰

1

Tangy, harmonious – down-to-earth. Coming from the vineyards around Leiwen, it gives insight into the cheerful, carefree side of the Mosel Riesling year after year. It shows at its best with popular dishes like oysters, roasts, coq au vin … And in addition great with fish like pike-perch fillet. It is equally at home in award-winning restaurants and student pubs. It particularly likes to celebrate weddings and birthdays. But often, a carefree day or an exuberant night is enough.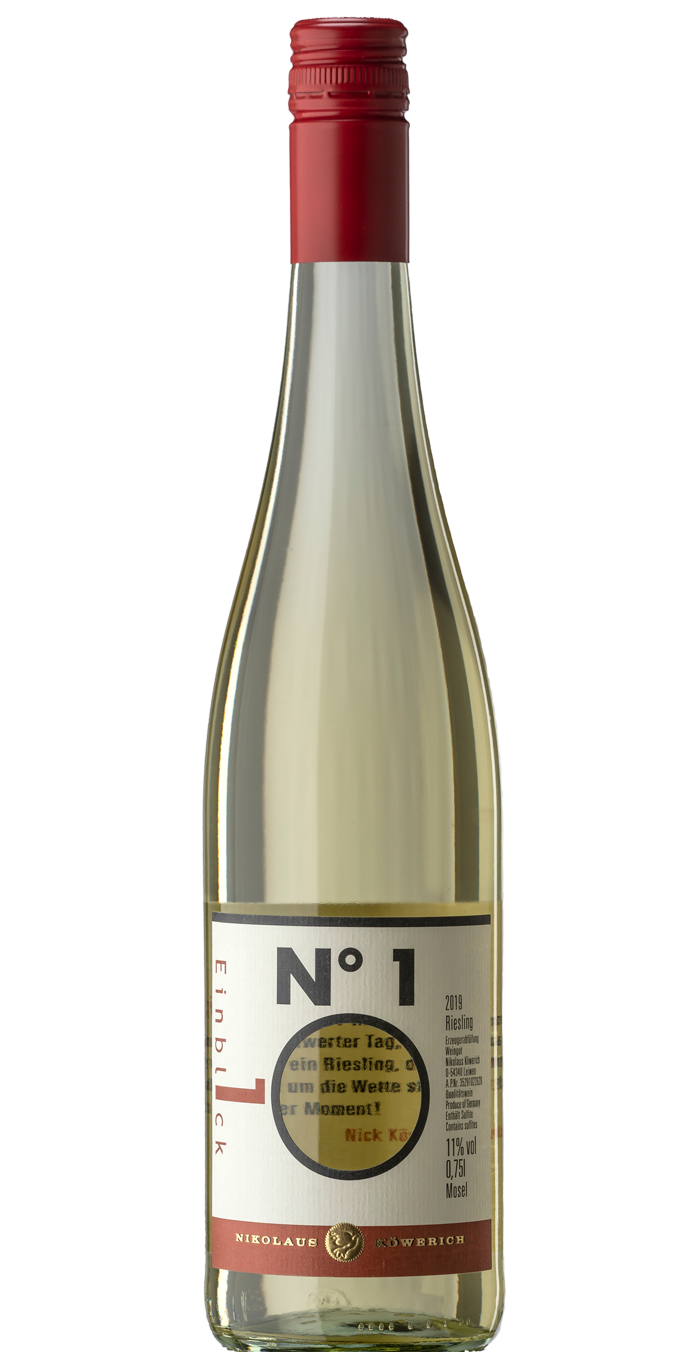 "… lightness of touch …" (jamessuckling.com), "Beliebtester Riesling"1 (Publikumspreis Frankfurter Rieslingtag 2018), "… im Mund tanzt er seinen Namen …"2 (SWR 2013), "… frisch und mit Pfirsichnoten …"3 (Gala 44/2006)
1 "Most popular Riesling", 2 "… it dances its name in your mouth …", 3 "… fresh and with peach notes …"
FOR FAIRIES AND ELVES
Playful flower scents from our special vineyards. For daytime, evening and night. A classic, and unmistakably Mosel. We highly recommend it with fine, light dishes and Asian food.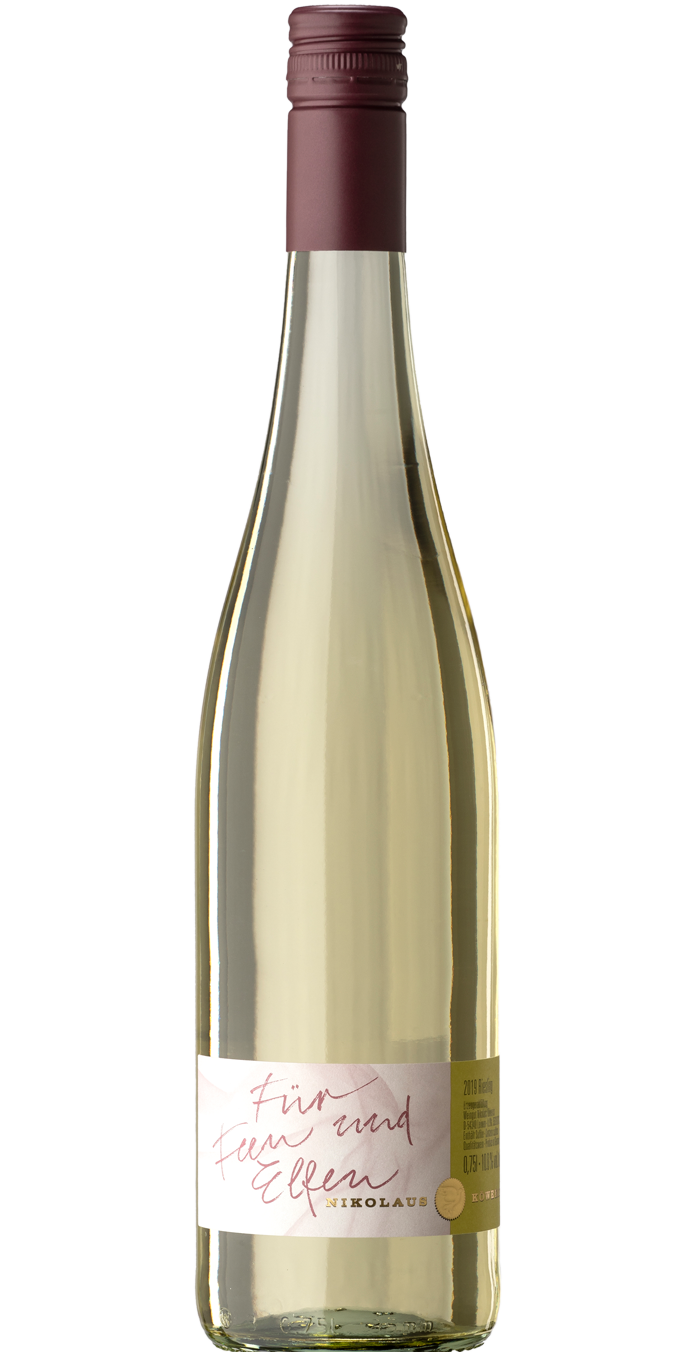 "… nose combines the fragrance of morning dew … and a subtle touch of spice …" (Jancisrobinson.com (MS) 15.08.2016), "… unorthodoxer Wein für eine junge Generation …"1 (Meisterwerke des Weines, Tre Torri Verlag, 2008), "… Der James Bond unter den Möselchen … Klassiker …"2 (wein.pur 2/2007)
1 "… unorthodox wine for a young generation …", 2 "… the James Bond among the Mosel wines … a classic …
FOR DREAMERS AND HEROES
Sensual, sweet and sinful. Opulent Mosel summer and sun concentrate. Scents of apricot and peach, tropical accents, honey and spicy aromas paired with citrus freshness. We allow it to mature in the bottle for a few months so it can develop, and we love it as an aperitif and paired with Asian food or cheese. We also appreciate its gentle power paired with or instead of a dessert.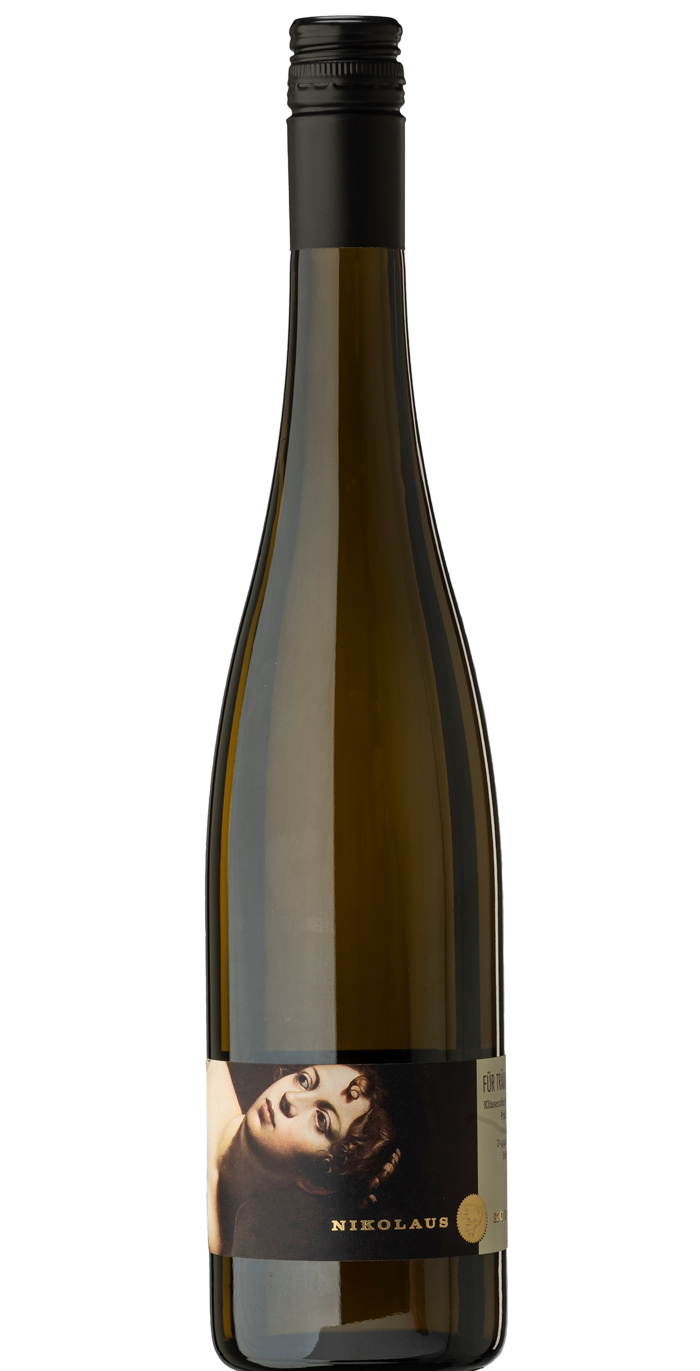 " … schieferwürzig-rauchig … Herr Mosel trägt Anzug … nonchalante Eleganz …" 1(Falstaff Wein Guide 2021)
1 "… slate-spicy and smoky … Mr. Mosel wears a suit … nonchalant elegance …"
HERR MOSEL
The gentleman to Fräulein Mosel, with a daring look and a latent tendency to fine dining, dry, mineral, likes to show off his muscles – for evenings at the campfire and a german gigolo.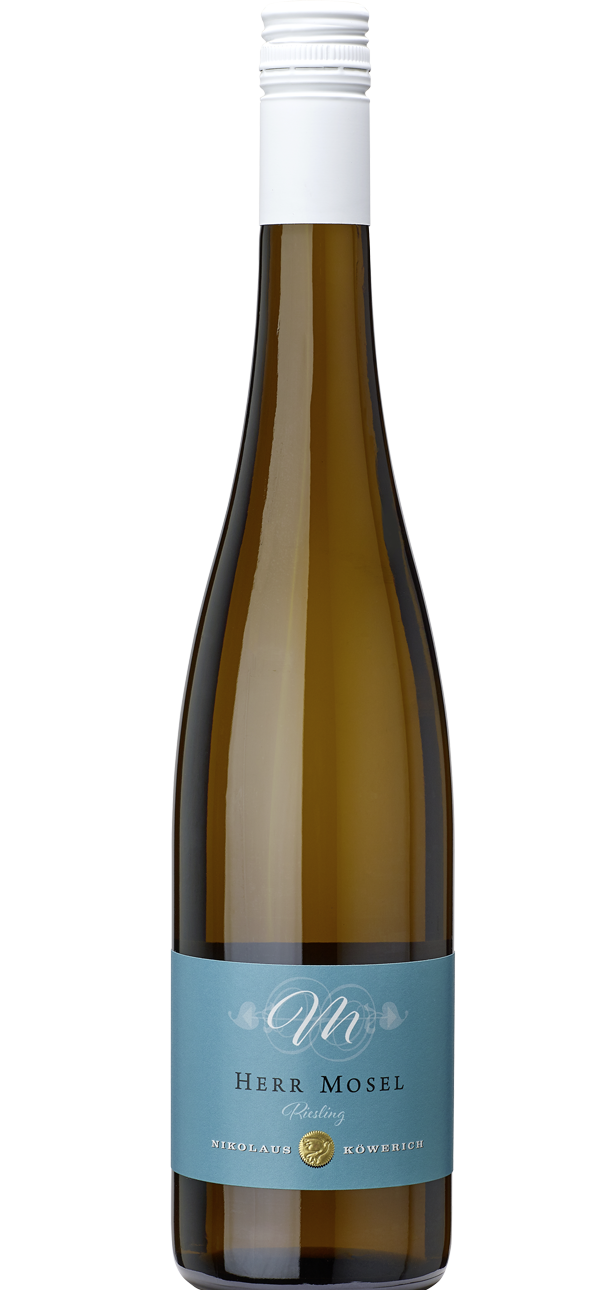 "… spielt mit herrlicher Honigsüße, dezenter Säure und Zitrusaromen." (Gala 50/2019), "… ein Fräuleinwunder unter Starkstrom!"1 (Fallstaff Wein Guide Deutschland 2019), "… üppiger und kraftvoller Riesling …"2 (Vinum Weinguide Deutschland 2019), "… das Fräulein gefällt aber auch als Aperitifwein …"2 (Stern 11.1.2018)
1 "… a high-powered girl wonder …", 2 "… lush and strong Riesling …", 3 "… Fräulein Mosel is also great as an aperitif wine …"
FRÄULEIN MOSEL
Young and a little wild and definitely not too dry. It deliberately breaks with convention and loves to be paired with hearty dishes. It wouldn't say no to a bit of Asian food either. It gives a new twist to traditional dishes such as liver sausage and ham sandwiches and turns a Wednesday evening with friends, ham, sausage and bread into a small and unforgettable party.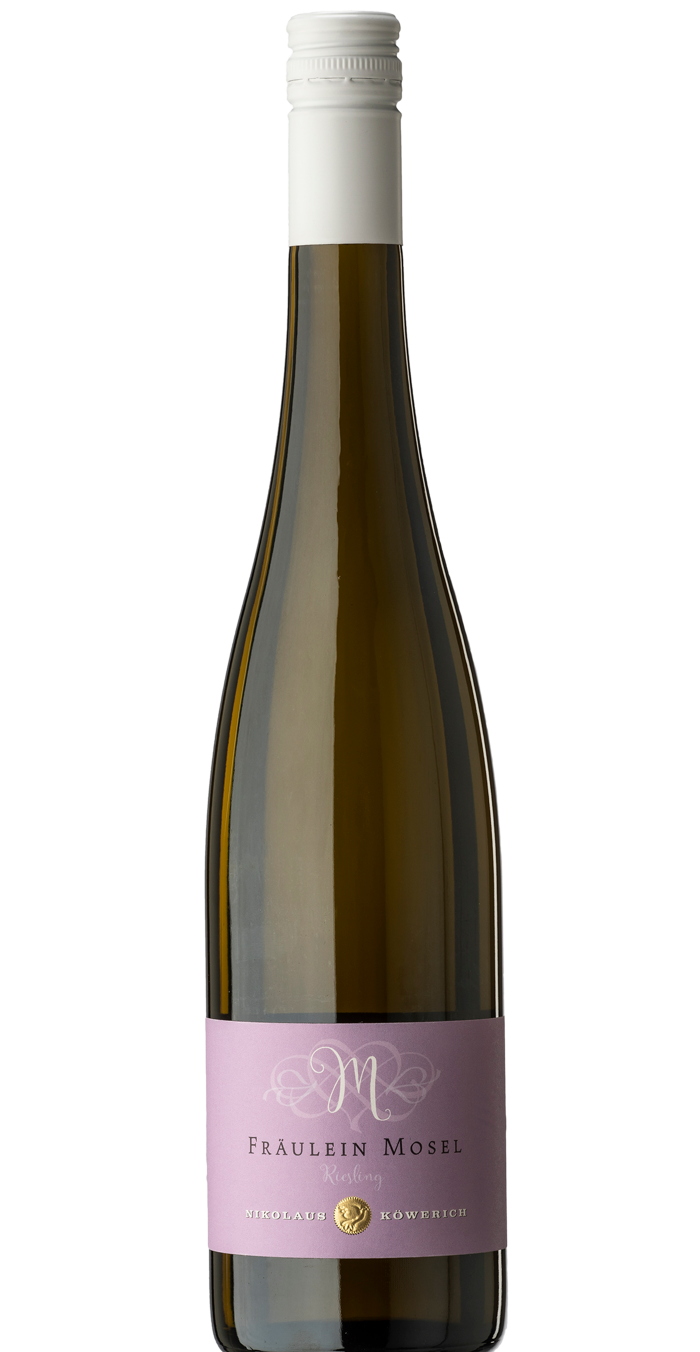 A QUESTION OF FORMAT
… not only at the Fräuleins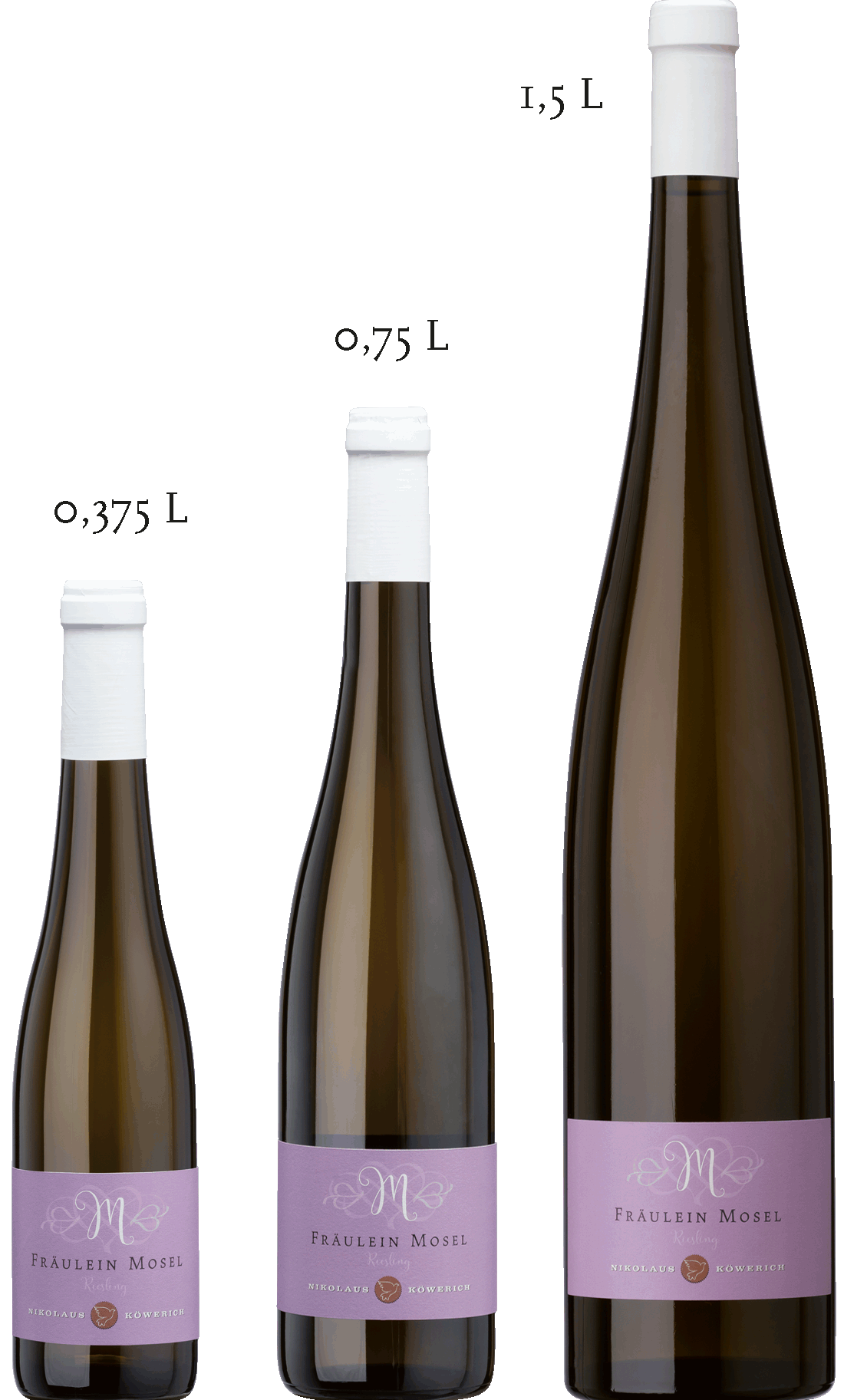 "Built to last", 94 Punkte, Leiwener Laurentiuslay … 2019 trocken
(jamessuckling.com)
, "Reifer Pfirsich, Schiefer und Salz, sehr mineralisch und straff, Trockenkräuter. Komplex mit viel Finesse, tragender Säure, sehr saftig, wunderbare Länge. Hat noch viele Jahre vor sich."
(Die Besten der Besten. Ausgezeichnet. 94 P., GENUSS.wein.pur Trophy 2/2019)
"… Unctuous style of Auslese with lush peach and candied orange, but there is more to the Laurentiuslay than just sweet fruit, as a subtle salty tang and a fine zesty peel note add value to the finish …"
(17,5 Punkte Jancisrobinson.com (MS) 15.08.2016 über Leiwener Laurentiuslay Riesling Auslese 2015)
LEIWENER LAURENTIUSLAY
"… Like all Nick Köwerich's noble sweet offerings, this wine exhibits a rich and almost oily texture, but a cool salty tang, fresh orange and a zesty piquancy banish any danger of cloying. A juicy taste of raisins completes a delightful experience …"
(18 Punkte Jancisrobinson.com (MS) 15.08.2016 über Leiwener Laurentiuslay Riesling Beerenauslese 2015)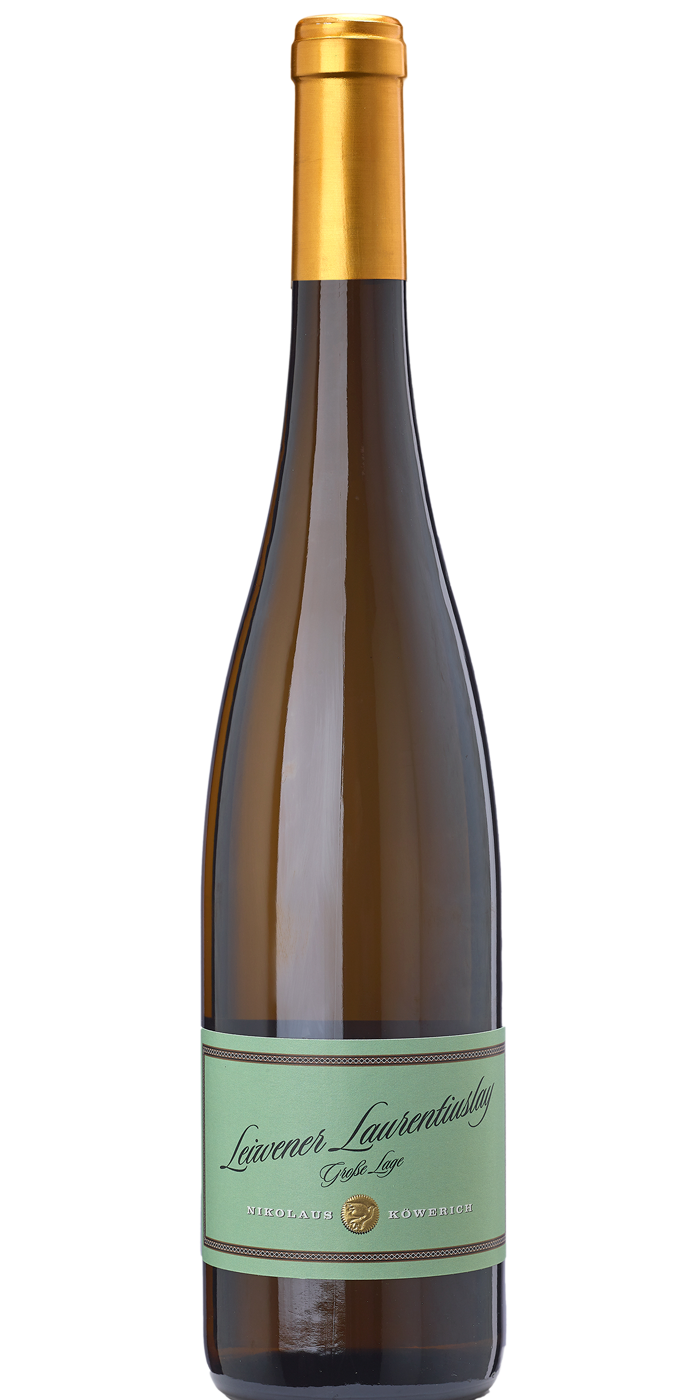 MATURE RIESLINGS
Mature Rieslings from the Mosel cannot be copied anywhere in the world. With some of them, you want to say a prayer of thanks before, during and after drinking them; just because they exist. Because while the world continues to rotate around us, loudly and noisily, you can relax and let the summer long gone dance on your tongue. Liquid time. Liquid happiness.
2021
2008er Für Träumer und Helden, Leiwener Laurentiuslay Spätlese
(2nd Place, Best of Deutschland, Riesling feinherb/halbtrocken/fruchtsüß, Vinum Wine Competition 2021)
2020
"… komplex und dicht, salzig." 95 Punkte
(Falstaff Weinguide 2021, über 2009 Laurentiuslay Beerenauslese)
2017
2004er Leiwener Laurentiuslay Riesling Spätlese
1st place Best of Riesling 2017, category mature Riesling; 
95 points, Gold, DECANTER; 
Best of Show Riesling late harvest, Mundus Vini spring tasting ProWein)
2016
2001er Leiwener Laurentiuslay Riesling Spätlese
Best of Show Riesling late harvest, Mundus vini spring tasting ProWein
2015
1999er Leiwener Laurentiuslay Riesling Spätlese
2nd place Best of Riesling category sweet
 Regional Trophy, Gold, DECANTER; 
Best Riesling off-dry, Mundus vini spring tasting ProWein